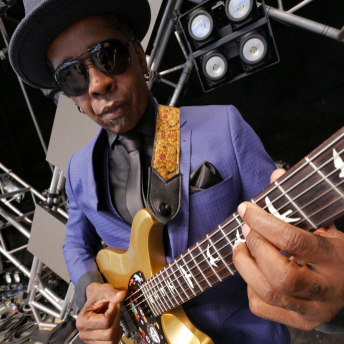 Guitarist and two-time Grammy Award recipient Vernon Reid has been musical force for four decades. Though best known as the founder of the groundbreaking rock band Living Colour, who debuted in 1988 with the double-platinum Vivid, Reid has displayed his musical diversity through solo projects (Masque, Yohimbe Brothers), studio work (Lady Gaga, The Roots, The Ramones, Public Enemy), film scores (Paid in Full, Ghosts of Attica, Free Angela Davis & All Political Prisoners, )
Breaking through on the avant-jazz scene on the Lower East Side with Decoding Society and Defunkt, Reid has been musically building on that groundwork ever since. In 1985, he co-founded the much needed Black Rock Coalition to confront racism in the music industry. Additionally, Reid also worked with leading choreographer Bill T. Jones in 1994 on the two-part dance project Still/Here.
Always moving forward, Reid is currently working on a variety of ventures including a new solo album, a new soundtrack for the latest film directed by Brad Lichtenstein, and a book of his photographs. This summer Reid will be on the road with his band Living Colour, whose last album Shade was released in 2017.